lumber
Although a large part of what we produce at Shearouse Lumber Co. is Southern Yellow Pine, we also produce Green Oak and New Heart Pine. Our Green Oak is sold rough for Low-Boy trailers, which are used for hauling heavy equipment. We also dress some for boat ribs.
Our facility consists of dry kilns, a timbersizer, planer mill, sawmill, pole and pilings mill, as well as a CCA Osmose treating plant. The process of manufacturing starts with trees. The logs are debarked, sawed and sorted. Logs are then stacked, dried in kilns, run through the planer (unless someone orders rough) and treated. We have an Osmose treating plant at our facility, for specialty treatment, if the lumber is to be used outside, in the ground or in saltwater.
We manufacture a variety of lumber products: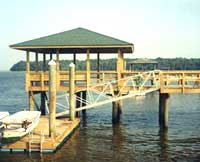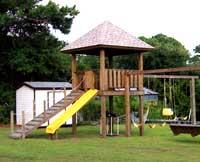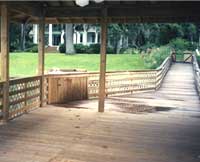 Marine Pilings
Utility Poles
House Pilings
Barn Poles
Fence Posts
Bridge Timbers
Structural Support Beams
Exposed Beams
Dimensional Lumber
Siding- Ship Lap and Beveled
Paneling
V-Joint Paneling- 4", 6" and 8"
Edge Beaded Ceilings
Other Specialty Items
We stock everything needed for dock construction:
Seawalls
Bulkheads
Dock Hardware
Floatation
Ramps
Maze Hot-Dipped Galvanized Nails
We also export material overseas.